Support EDS Awareness with the candle Resilience Glow.
FOR THE BENEFIT OF THE EHLERS DANLOS SOCIETY
Order your candle
What's the Ehlers-Danlos syndrome?
Ehlers-Danlos Syndrome (EDS or SED) is a group of genetic connective tissue disorders that affect the skin, joints, organs, and blood vessels, causing chronic pain and many other disabling problems. Raising awareness of this rare and often misunderstood disease is essential to foster research, diagnosis and support for those affected. By purchasing the "Shard of Resilience" candle, you are contributing directly to this mission, as proceeds will be donated to The Ehlers Danlos Society Foundation, an organization dedicated to improving the lives of people with EDS.
Why Ehlers-Danlos Syndrome?
We chose this cause because one of the founders of Vulgaire has this disease and has to fight every day to overcome the additional challenges it imposes on him, not without difficulty. We are therefore well placed to see the lack of knowledge, resources and support for the afflicted.
Who are we?
Vulgaire was created in order to offer the possibility to one of its founders suffering from SED/EDS to be able to work at his own pace, without conditions. The company offers candles for various markets, including its signature candles with humorous and/or vulgar messages, candles for fundraisers or fundraising campaigns in schools, daycare centers and businesses, as well as personalized candles for various markets including trade fairs. funerals with memorial candles sporting a style and scent that brings back a memory related to the deceased (for example, a campfire and the scent of Smore's for a camping enthusiast or the scent of Grandma's favorite flower).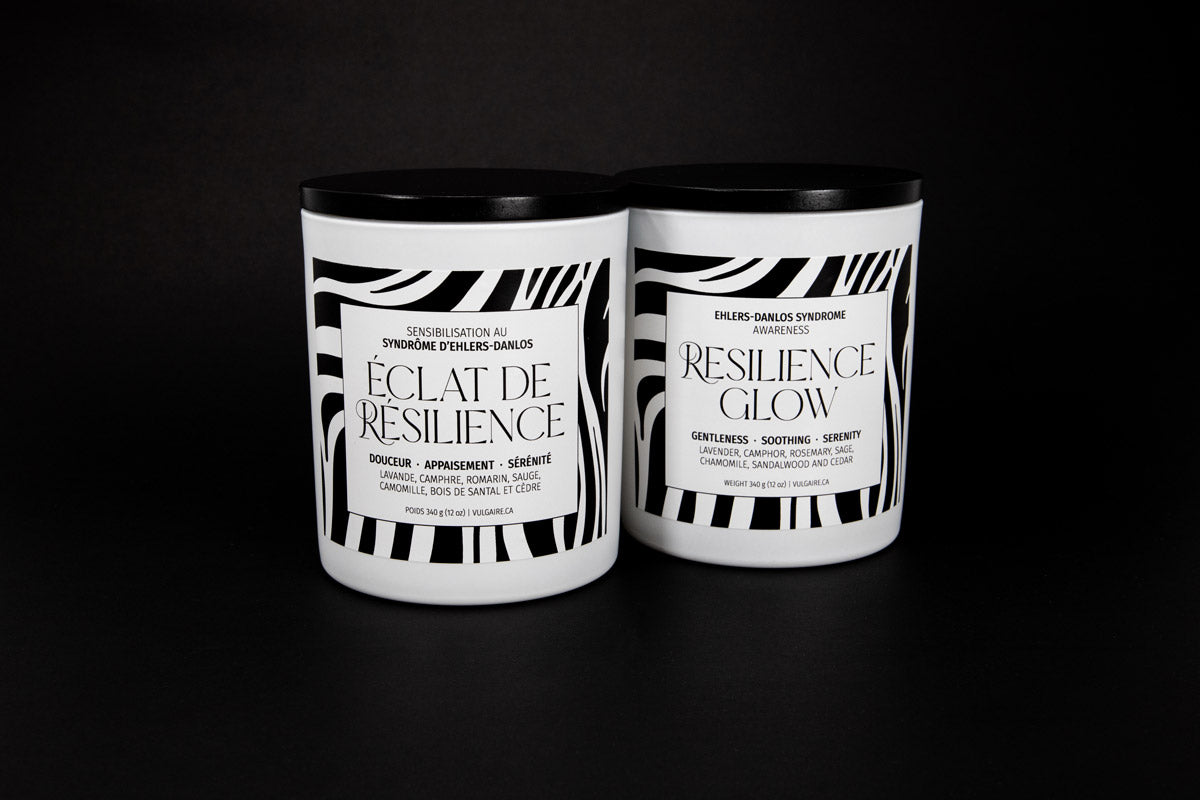 The impact of profits
Each purchase of the "Resilience Glow" candle has a real impact on awareness and research around Ehlers-Danlos syndrome. The profits generated will be entirely donated to the foundation "The Ehlers Danlos Society", which works to finance innovative research projects, promote the training of health professionals and offer support to people with EDS and their families. Together, we can help improve their quality of life and better understand this complex disease.
Order your candle
Whether it's to help you get through a tough time as someone with Ehlers-Danlos syndrome or simply to support the cause and enjoy the benefits of the candle, buy the Burst of Resilience candle now! Together, we can make a difference.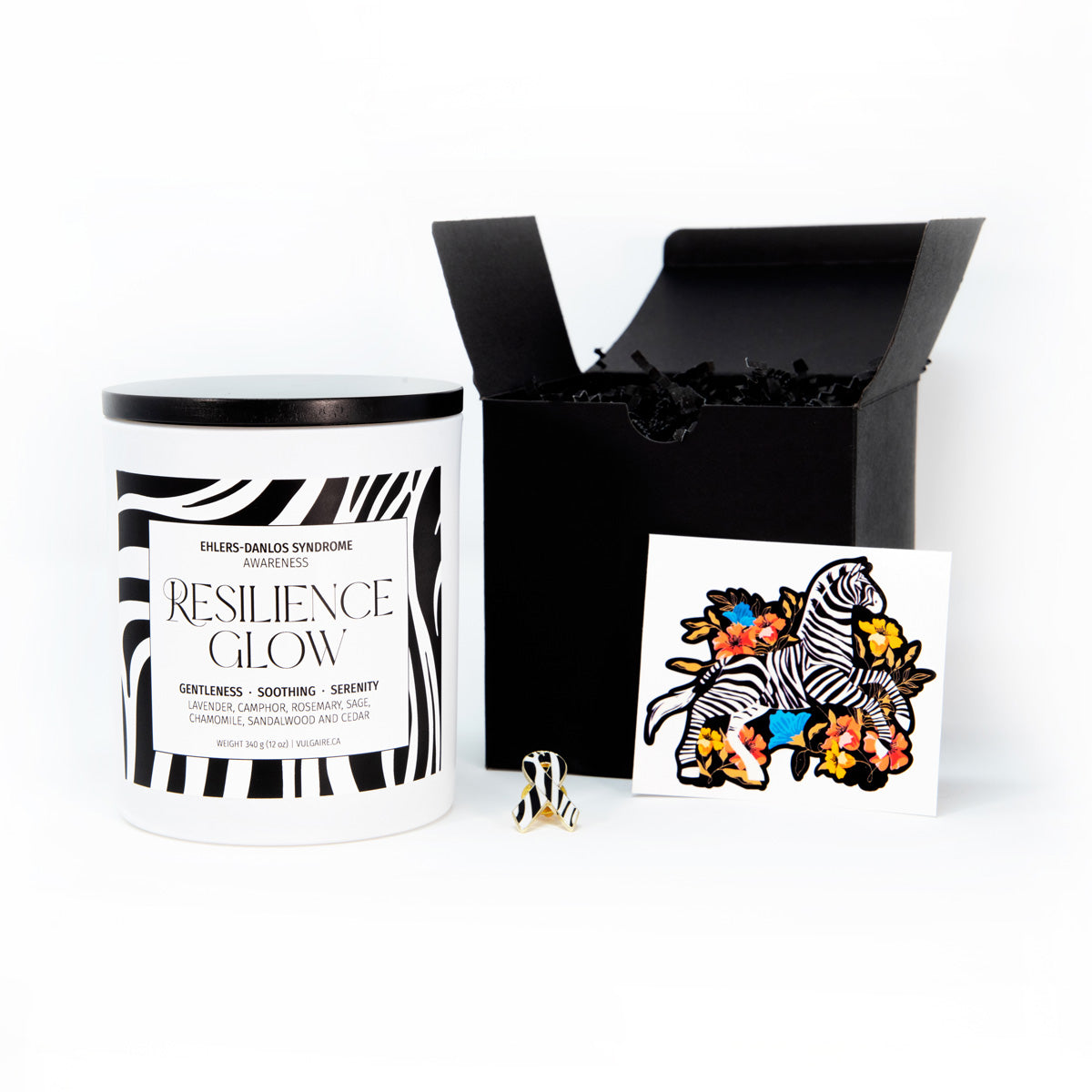 Candle Resilience Glow
Regular price
Sale price
$27.00 USD
Unit price
per
Sale
Sold out
Resilience glow candle comes with a zebra lapel pin and a unique zebra sticker. 12 oz candle with or without fragrance, your choice. The version with fragrance is composed of lavender, chamomile, sandalwood and herbs with multiple benefits. Handmade, with natural coconut wax and apricots.
View full details
100% natural

Without phthalates

Paraben free

GMO free

Vegan

Ecological
Frequently Asked Questions
How long does the Resilience Glow candle last?

The candle has a burn time of approximately 40 hours, depending on care and use.
What are the ingredients of the Reselience Glow candle?

The Resilience Glow candle is made from natural coconut and apricot wax, making it non-toxic and eco-friendly.
What is the scent of the candle?

The Resilience Glow candle has a sweet and soothing scent, created from a blend of natural essences. Lavender, chamomile and sandalwood are the most notable notes.
How do I care for my candle to maximize it's life?

To prolong the life of your candle, we recommend that you trim the wick to approximately 0.5 cm (1/4 inch) before each use, do not leave the candle burning for more than 4 consecutive hours and let cool completely between uses.
What are the delivery times and costs?

Delivery costs vary depending on your location. Orders of this candle will ship twice a month, May 15 and May 29, 2023. You will receive a confirmation email upon shipment. Delivery is available for Canada and the United States. For other regions, please write to us at info@vulgaire.ca .
What is your return policy?

If you are not satisfied with your purchase, you can return the unused candle to us in its original packaging within 10 days from the date of receipt. Return costs are the responsibility of the buyer. Please see our full return policy on our site for more information.
Is the Resilience Glow candle made in an ethical and sustainable way?

Yes, we are committed to producing candles in a responsible and environmentally friendly way. Natural coconut and apricot wax is an eco-friendly alternative to paraffin wax, and the matte white glass container is recyclable. In addition, we make sure to work with partners and suppliers who share our ethical and ecological values.
How can I learn more about Ehlers-Danlos Syndrome and further support the cause?

To learn more about Ehlers-Danlos syndrome, you can visit The Ehlers Danlos Society foundation website and subscribe to their newsletter to follow news and events. You can also donate directly to the foundation or volunteer to support their initiatives.